The Benefits of the Geneva Steel Above-Ground Pool ...
What's not difficult to see in its entirety is the value and beauty of the Geneva Steel Above-ground Poolfrom Blue Cascade. This 52" all steel pool features a 6" top rail, beautifully sculpted posts and the Starlite exterior design in the new neutral Pewter Gray. This is a great aboveground pool for you, your family and friends. Every Geneva pool is manufactured in the USA and features a Vinyl Works deluxe interior finish, also fabricated in the USA. Small Oval Above Ground Pools Available.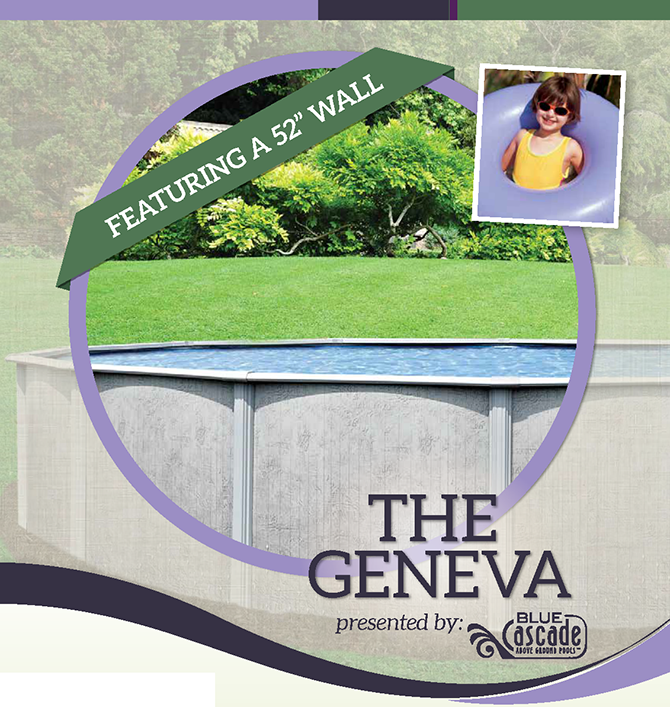 the story ...
The Geneva Falls begin where the thundering Geneva Creek splits into two channels, cascades then plunges in side-by-side falls, before gathering into one channel again and dropping over a half-dozen additional tiers on its way to join the North Fork Crystal River. Though the falls are clearly visible from parts of the Geneva Lakes, in Gunnison County, Colorado. The entire waterfall is difficult (if not impossible) to see collectively due to the way the stream changes direction as it falls.
Features
• 52" Pool Height
• 6" Steel Top Rail
• Sculpted Steel Uprights
• Starlite Exterior Wall Pattern
• Steel Stabilizer, Top Plate and Bottom Plate
• One Piece Ledge Cover
• Oval System Buttress Only
Warranty
1 Year Full Warranty
Sizes & Specifications
Round Pool 52"
15' x 52"
18' x 52"
21' x 52"
24' x 52"
27' x 52"
Oval Pool 52" Size/Feet
12' x 24' x 52"
15' x 30' x 52"