The Benefits of the Alexander Steel Above-Ground Pool ...
Just like The Alexander Falls, this swimming pool is beautiful to behold! The Alexander is the ultimate in size and construction design, with each piece manufactured to exacting standards. This pool will transform your backyard into a family entertainment center while complimenting the beauty of your home. The oversized frame, column uprights, and resin bottom rails adds the durability expected of such an iconic pool. Every Alexander is produced in the United States and features a Vinyl Works deluxe pool liner, also manufactured in the United States.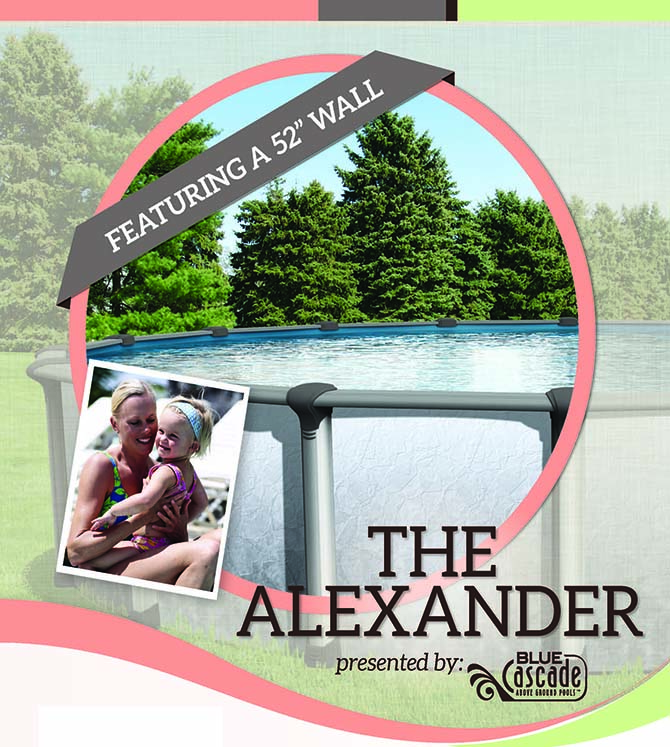 the story...
Alexander Falls is a waterfall on Madeley Creek, in the Callaghan Valley area of the Sea to Sky Country. This region in British Columbia spreads from Horseshoe Bay through Whistler to the Pemberton Valley — and sometimes beyond to include Birken and D'Arcy. The falls consist of three drops that total up to 141 feet in total and are about 40 feet wide!
Features
• 52" Wall Height
• 9" Steel Top Ledge
• Steel Gray Uprights
• Steel Stabilizer, Top Plate, and Bottom Plate
• Gray Stained Glass Exterior Wall Pattern
• Two Piece Ledge Cover
• Oval System is Non-Buttress Only

Warranty
3 Year Full
Sizes & Specifications
Round Pool 52"
15' x 52"
18' x 52"
21' x 52"
24' x 52"
27' x 52"
30' x 52"
A-Brace Oval Pool 52" Size/Feet
15' x 30' x 52"
18' x 33' x 52"