The Benefits of the Sutherland Semi-Inground Pool / Onground Pool ...
And, if you want to add a salt generation system, that's not an issue. Sutherland is totally resistant to the corrosive nature of salt generators. What good is a pool if you can't sit at water's edge to cool your feet or just to rest? The Sutherland offers a 5 inch top perimeter rail so you can do just that! We offer a Tan PVC or synthetic wood option, either way, there's absolutely no maintenance needed. For total inground applications we offer an attractive aluminum bullnose coping Make your Sutherland pool the most energy efficient pool on the market. Most on-ground or semi-inground pool owners use a solar cover to help maintain water temperature. However, they often miss the importance of insulating the sides of pools, which helps prevent heat loss. Studies have shown you can reduce your monthly operating costs with the use of a sufficiently insulated pool wall. Ask your dealer which easy to use insulation spray kits they recommend. Sutherland gives you many exterior finish option, not just one. And, you can change it at any time, just because you want to!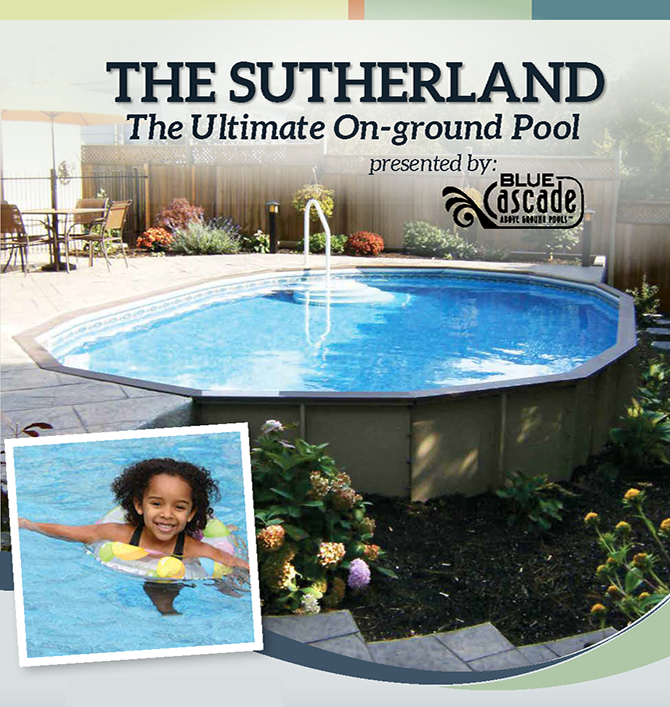 the story...
Sutherland Falls is a high volume waterfall of three steps on a mountainside in New Zealand's Fiordland National Park. The three drops occur in such quick succession that when viewed from the air the falls appear to be one long drop. Its total drop is 1904 feet. Sutherland Falls is named after Donald Sutherland, a prospector who found the falls in 1880.
Features
• Can be installed Aboveground,
Semi-Inground, or Inground
• 52" Pool Height
• 3 Top Rail Coping options to
choose from
• 14 Gauge Galvanized Powder
Coated Steel Walls
• Buttress Free Ovals
• Inground Quality Skimmer and
Return
• Hardware, Drive Stakes, Joint
covers included

Warranty
Limited Lifetime
Sizes & Specifications
Round Pool 52"
15' x 52"
18' x 52"
21' x 52"
24' x 52"
28' x 52"
Oval Pool 52"
Size/Feet
15' x 24' x 52"
15' x 30' x 52"
17' x 32' x 52"
Grecian Pool 52"
Size/Feet
14' x 30' x 52"
16' x 32' x 52"