The Benefits of the Angeline Aluminum Above-Ground Pool ...
Just as you love a summer hike to see a waterfall, you will also love to swim in your own Angeline Aluminum Above Ground Pool from Blue Cascade! The Angeline aluminum pool is able to handle inclement weather, is a rust-free alternative to steel pools, and is a long-term value at a reasonable price. The aluminum pool wall is lighter in weight when compared to steel walls. Every Angeline aluminum above ground pool is "Made in the USA", features a 50 Year Limited Warranty with 3 Years Full Coverage, and a Vinyl Works deluxe pool liner— also manufactured in the United States. Get outdoors and into your Angeline pool, and love summer swimming for many years to come!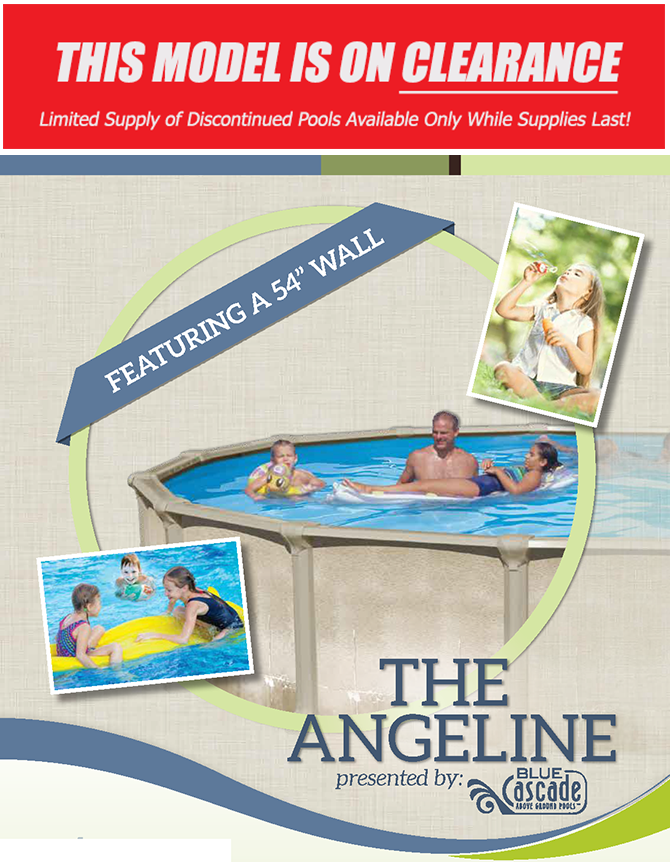 the story...
The Angeline is named after Angeline Falls located in King County, Washington. Flowing from the outlet of Angeline Lake, this perennial waterfall plunges from a height of 450 feet and is more than 120 feet wide. Love summer? Hike to a waterfall and relax in the great outdoors!
Features
• 54" Pool Height
• 8" Extruded Aluminum Ledge Sand Color
• 6" Wide Extruded Aluminum Verticals; Sand Color
• 1" Universal Aluminum Rails
• Universal Top and Bottom Aluminum Plates
• 8" Molded Resin Wrap Around Top Covers &
Bottom Pedestal
• Nemisis Corrugated Aluminum Wall
• Available: Round and Non-buttress, Slim Style Ovals
• Stainless Steel Hardware for Extended Life and High Strength Fasteners Where Required

Warranty
50 Year Limited
Including 3 Year Full
Sizes & Specifications
Round Pool 54"
18' x 54"
21' x 54"
24' x 54"
27' x 54"
Oval Pool 54"
Size/Feet
12' x 24' x 54"
15' x 30' x 54"
18' x 33' x 54"